Insurance Plans for Individuals and Businesses

Download Audio Version
Insurance is a term that refers to a contract between a policyholder and an insurer, with the aim of protecting customers from potential loss. A company or individual is reimbursed for losses meaning that they are entitled to receive financial compensation.
How Insurers Assess Risk
Insurance companies take different factors into account to assess and quantify risk. Perils such as disease, fire, and floods are the cause of risk. Insurers also look at factors that are the cause of perils, and these include poor health habits, poor electrical wiring, unpredictable weather and bad weather patterns. Insurance companies use different tools and methods to assess hazards and risk, which allows them to calculate the premiums.
Insurance Policies for Business Owners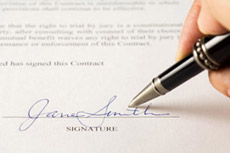 Financial companies offer different types of insurance to individuals and businesses. The main types of business policies include property, general liability, worker's compensation, and commercial auto insurance. Worker's compensation, for example, covers employees and workers who sustain injury on the job. This type of policy offers medical benefits and wage replacement while injured employees give up their right to file a lawsuit against their employer. Commercial auto insurance is another type of policy that covers the vehicles of a company. This includes the vehicles that carry equipment and machinery, goods, raw materials, and workers and employees. Businesses can ensure their trucks, vans, SUVs, and automobiles against potential damages and collisions. Property insurance is also important for business owners, especially if they own tools and equipment, inventory, office equipment, etc. The policy offers protection against smoke damage, theft, vandalism, flood, fire, and other natural disasters. General liability is yet another policy for business owners. It protects the company's services, products, or employees if they have caused property damages or injuries to third parties. Other types of policies offered to business owners include data breach, life, renter's, professional liability, and personal auto insurance, among others.
Plans for Individual Policyholders
Individuals can choose from different types of policies, including health, life, auto, and long-term disability coverage. Life insurance is especially beneficial for persons who have families and dependents. People often opt for a life policy when they are the sole income provider and their spouse and children are dependent on their salary. The money can go toward funeral costs, monthly expenses, education costs, donation, and income protection. In addition, the money can be used for business and personal loans, mortgage payments, and taxes. Health insurance is another policy for individuals, which offers protection against the risk of serious illness and associated medical expenses. Some people are covered under their employer's program while others opt for additional coverage. Auto insurance is a policy that is mandatory in many countries. This cover is purchased for trucks, SUVs, automobiles, and other vehicles. Policyholders pay premiums, and the insurance company covers the cost of a vehicle damage or traffic incident. The premium is based on a variety of factors, including moving violation and accident history, driving experience, age and gender, and others. Higher premiums are usually offered to people with a history of accidents and poor driving record. Long-term disability coverage is yet another type of insurance for employees. While worker's compensation offers protection on the job, it doesn't cover employees who are injured off the job. Long-term disability is designed to cover employees against such accidents. It replaces some portion of one's income in case the policyholder is unable to work for extended periods of time. There are different types of disability covers, including business overhead expense, key-person, individual, employer-supplied, and national social disability insurance. In addition to these types of policies, people can opt for other plans, some of which are offered by banks and credit card companies. These include trip cancelation, travel medical insurance, travel accident insurance, and others. The policies offered depend on the type of card, i.e. business or personal, airmiles, low interest, cashback, and others.
Related Articles
Disability Insurance to Cover Medical Expenses and Pay Existing Debts
Disability insurance is a type of policy that offers protection in the event of accident or serious illness that results in loss of employment and income due to disability. There are different types of policies, and the main ones are business overhead expense, key-person, high-limit, and individual...
Medical Insurance as a Flexible Solution to Maximize Employment Benefits
Medical insurance policies cover health-related and hospital expenses due to accidents and illnesses. Benefits are offered for injuries, medical problems, and accidental death. The different plans are offered by non-government entities, private insurers, government agencies, and others. As a rule,...
Roles and Expertise of Insurance Brokers
An insurance broker is a professional who offers, negotiates, and sells policies. He acts as intermediary between insurers and customers and receives compensation. An important role of brokers is to help insurers to assess the types of risks they face. Risks include natural hazards such as bad...
Insurance Policy and Covered Perils
An insurance policy is a contract or plan that provides coverage and transfers the risk of loss from the policyholder to the insurer. The contract includes different elements such as policy jackets and riders, endorsements, and conditions. Parts of the Contract A policy jacket is simply a printed...
Follow Tessa on
Google+