Types of Unsecured Debt Offered to Individual and Business Borrowers

Download Audio Version
The term unsecured debt refers to a loan offered by a financial institution and not backed by collateral. If the borrower is unable to keep up with payments, the bank has to file a lawsuit to get the money back. Financial establishments face a higher risk when the loan is not backed by some asset. For this reason, they offer shorter terms of repayment and higher interest rates.
There are different types of unsecured debt, including utility and medical bills, credit cards, car financing, and student loans. Other types include legal bills, tax debt, department store and gas cards, and collections. Medical bills are debt incurred for dental work, lab work, hospital stays, and emergency room visits. People who have insurance only pay for services that the insurer doesn't cover. Both children and adults can accrue debt, but it is guardians or parents of minors who are held responsible for repayment. Legal debt refers to an outstanding balance that is owed for legal services or problems.
Student Loans
A student loan is money for tuition and college expenses. It is different from other types of assistance such as scholarships and grants. The latter are forms of financial aid that is not to be paid back. The government also offers student loans to individuals who are pursuing a post-secondary degree. Canada Student Loans offers assistance in Canada while in the U.S., students can apply for Federal Perkins, Stafford, and Plus Loans. With this type of financial assistance, borrowers start making payments after graduation.
While interest rates are generally lower, they vary considerably from one lender to another. There are different options for repayment. Some banks offer interest-only student loans meaning that the borrower makes interest payments only while in school. Other financial institutions provide no-payment loans. The student's credit history and payment record are factors that financial institutions take into account when offering financing.
Peer-to-peer student loan services are another option. They locate potential borrowers and lenders and advertise near-term pay-back requirements, low interest rates, long- and short-term financing, and other benefits. Lenders bid on a variety of loan requests.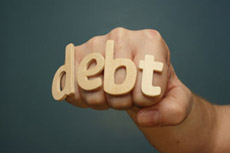 Auto Loans
Auto financing is another type of unsecured debt. There are direct and indirect and new and used car loans. The first type is offered to borrowers who seek to finance a vehicle purchase. Auto dealerships provide indirect loans and serve as intermediaries between buyers and financial establishments. Car makers offer 0 percent financing and cash rebates on some of their models. Some buyers also opt for luxury models and brands and 7-year terms. These are usually people with excellent or very good credit scores. The problem with longer terms, however, is that the borrower pays a lot of money in interest, owing more money that the vehicle is worth.
Credit Cards
Credit cards are another form of unsecured debt, offered by banks, financial companies, credit card companies, and other lenders. They come with different incentives and perks, including complimentary bonus points, low balance transfer rates, free tickets for celebrity events, and great rebates. Purchase protection, for example, allows clients to dispute a purchase if the seller fails to deliver an item or service. This is beneficial in case the retailer goes bankrupt or out of business. Extended warranty is another feature that most card issuers offer. It is beneficial for expensive items such as equipment, household appliances, computers, and others.
While these types of loans are offered to individual borrowers, companies can apply for unsecured business loans. Using business financing is beneficial in many ways, and one is that timely payments increase the credit score. Loans are one option for companies that seek to purchase equipment, increase their production capacity, and expand their operations. Businesses with a good mix of equity and debt financing earn higher profits.
Business Loans
Obviously, unsecured business loans are risky for financial institutions because they are not backed by some asset (i.e. accounts receivable, real estate, or business inventory). Because of the higher risk involved, financing comes with shorter terms of repayment. The term usually varies between 24 and 84 months. Interest rates are also higher compared to secured loans. At the same time, financial institutions also base their lending decisions on the company's creditworthiness. They assess whether the prospective borrower is a credit risk. Banks take into account bankruptcies, defaults, arrears, and late and missed payments to determine whether to offer an unsecured loan. These factors, along with debt load, have an impact on the term and interest rate.
Related Articles
Student Loans as a Form of Low-Cost Financing
Student loans are offered to people who are enrolled full or part time at an accredited institution of higher education. Government agencies and private lenders offer financing to students enrolled in private and state colleges, universities, and trade schools. In addition to these types, there are...
Business Financing for Professionals
A business loan is a form of financing offered to companies that seek to purchase real estate, machinery and equipment or to finance projects that help increase revenues and profits. Many entrepreneurs need start-up capital while established businesses seek to expand their operations. Types of...
Credit Cards for Individuals and Businesses
Credit cards are issued by a variety of financial institutions, including financial companies, caisses populaires, banks, and others. This is a form of revolving debt that is used for the purchase of services and goods. The payments are collected by issuers at a later date. There is an...
Unsecured Loans for Salaried and Self-Employed Professionals
Unsecured loans are offered to trustworthy customers with a good payment and credit history. There are income, age, and other requirements to qualify. Applicants should be of legal age, and financial institutions request a photo ID, driver's license, passport or another document to prove this. The...
Follow Tessa on
Google+