Student Loans as a Form of Low-Cost Financing

Download Audio Version
Student loans are offered to people who are enrolled full or part time at an accredited institution of higher education. Government agencies and private lenders offer financing to students enrolled in private and state colleges, universities, and trade schools. In addition to these types, there are consolidation loans that allow borrowers to combine different types of student debt, which makes payments more affordable.
Government Assistance
While universities provide private scholarships, government agencies offer different types of financial aid, including grants, scholarships, and loans. The government offers financial assistance to help students to cover their college costs. This includes tuition fees, room and board, school supplies, textbooks and books, and other school-related expenses. This is a form of interest-free assistance that is offered for the period of study. Interest charges begin to accumulate after the student graduates. Financial aid is normally offered to students from low-income families and those with disabilities. Students who are unable to pay back their loans after graduation are offered repayment assistance. The terms can be modified to lower the monthly payments and make them more affordable. As a rule, students benefit from government assistance. Advantages include income-based schedule of repayment, low rates of interest, and forgiveness.
Private Lenders
Student loans are offered by different financial institutions, including credit unions, banks, and finance companies. The terms and interest rates depend on the borrowers' credit score, whether they pursue a graduate or undergraduate degree, their income level, whether they have dependents, and other factors. Graduate students can apply for a larger loan while undergraduate students often receive a lower rate of interest. Different assessment rules and criteria may apply for students who have siblings in college. Typically, the contribution of parents is distributed equally between the applicant and his/her siblings. When applying for financing, students should fill in information such as their address, age, college or university, and whether they have studied before.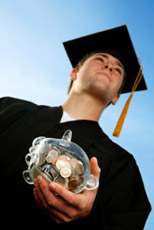 Differences Between Private and Government Assistance
In general, private student loans come with a higher interest rate than government funding. Moreover, private lenders offer variable rate, which can be as high as 18 – 20 percent. This can increase the cost of borrowing. Government funding is offered with a low fixed interest rate. Many financial institutions require that borrowers make payments while in college. Repayment of government loans starts after graduation. Private lenders do not subsidize loans, meaning that students pay interest while in college. On the other hand, the government pays the interest charges for students who are enrolled full or part time. Finally, students may apply for government assistance even if they haven't established credit yet. Some private lenders require that applicants have a good credit score. Another difference between private lenders and government assistance programs is that the latter offer deferment and forbearance options. Forbearance means that the monthly payments are reduced or suspended for a certain period of time. Deferment is another option available to borrowers who receive government assistance. Here, interest does not accumulate if payment is postponed. Interest on government loans may be tax deductible while on private ones is not. Moreover, students who apply with a private lender may need a co-signer. This can be a parent or guardian with a good credit score. With private lenders, there are often penalty fees for prepayment. Students who receive government assistance have the option to prepay their loans.
Revision of terms is another option for students who receive government aid and allows borrowers to request an increase or decrease of their monthly payments. To this, the repayment term is adjusted to make payments more affordable. Interest relief is yet another option for students who find it difficult to make payments due to prolonged illness or loss of employment. Students can apply for interest relief for a period of 6 months to 2.5 years. During this period, the borrower is not required to make payments toward the outstanding balance or interest charges. Permanent disability benefit is yet another option available to students with permanent disabilities. These include sensory and mobility disabilities such as reduced limb function, hemiplegia, dystrophy, and multiple sclerosis. The loan amount can be reduced for students with disabilities who face serious financial difficulties. The criteria depend on the financial institution and the type of loan. Finally, students who are unable to make payments can consolidate their loans and choose a term of up to 30 years. Borrowers end up paying more in interest charges because of the longer term of repayment.
Related Articles
A Secured Credit Card for People with Money Problems
A secured card is a borrowing instrument that requires a deposit and is a good option for people who need to build or rebuild their credit history. The limit is usually lower than or equal to the deposit made. Some financial institutions keep the funds in an interest-bearing account until the...
Types of Secured and Unsecured Personal Loans
Personal loans are offered to individual borrowers rather than companies and corporations. Financial institutions such as commercial banks, credit card companies, savings and loan associations, and credit unions offer financing. Loans come in the form of unsecured and secured debt. Loan TypesThe...
Follow Tessa on
Google+