Checks, Pros and Cons, and Alternatives

Download Audio Version
A check is a type of negotiable instrument that allows people to pay to a third party, whether a person or retailer, on demand. It is a signed and dated written instrument that orders the payment of a specified sum of money.
Benefits of Using Checks
Being a form of bill of exchange, checks were created to allow people to make payments. Thus, when you use them, you don't have to carry large amounts of cash. To some people, checks are an old-fashioned way to make payments, especially now that there are alternatives such as debit and credit cards. At the same time, they are easy and convenient to use. Another benefit is that they are safe to send by mail compared to cash. Many people keep a register and use it to record checks. This helps them to keep track of their payments and spending in general. They serve the same purpose as cash, the only difference being that it takes 1 – 2 days to have them cashed. On the downside, some retail stores and other vendors don't accept them. Most hotels, airlines, shopping centers, and stores accept credit cards.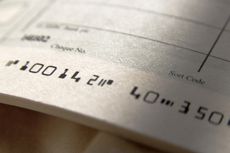 Uses
To write checks, consumers have to open a bank account at a credit union, savings and loan association, or bank. Financial institutions offer checks to clients after they make a deposit. In many cases, you have to buy them from the bank. When you want to pay for goods or services, you just fill in the check and hand it to the retailer. The payments you make should not exceed the money deposited in the bank. The financial institution will not honor your check. The problem with bounced checks is that they cannot be processed. Known as hot, returned, rubber, and dishonored checks, they incur fees in the amount of $20 to $40. The fees vary from one institution to another. Recipients and retailers that receive too many bounced checks may choose not to accept them as means of payment. There are many reasons why retailers and other parties receive bad checks. These include non-existent and frozen accounts, and accounts that are under investigation. Some con artists issue checks without having a bank account. In other cases, the issuing bank has taken action to deny authorization or the person who wrote the check decided to cancel it. If the accountholder passes away after writing it, it will bounce.
Other Disadvantages
Another problem with checks is that financial institutions charge a fee for cashing them. The fee varies from one bank to another and is usually a percentage of the sum. Fees usually range from 1 to 5 percent and depend on the type of check to be cashed.
Information That Checks Contain
Checks include pre-printed information such as a bank code number, name of the financial institution, number, and address and name of the accountholder. The latter should fill in information such as the amount, recipient (company or person), the date, signature, and an optional comment.
Alternative Methods of Payment
Apart from debit and credit cards, there are other convenient methods of payment. You can choose from traveler and gift checks, money orders, cash, and Western Union. Online bill payment is another option. Banks offer online banking services that allow users to transfer funds, pay bills, look up their balance, order checks, and monitor their investments. Online banking saves time and allows accountholders to view their transactions and account history at any time and from anywhere.
Related Articles
Savings Accounts for Businesses, Adults, and Children
Retail banks offer savings accounts to customers and earn interest on the money deposited. Holders are usually allowed to make a limited number of financial transactions, including checks and transfers. This is a liquid savings instrument intended for people who have extra money and don't need them...
Beneficial Features of Checking Accounts
A checking account allows holders to make deposits and withdrawals. The main benefit of this type of transactional accounts is that the funds deposited in them are liquid. This means that money can be withdrawn at any time and no penalties apply. There are different ways to withdraw funds,...
Follow Tessa on
Google+