Fast Loans - Requirements, Risks, and Benefits

Download Audio Version
A fast loan helps borrowers to meet emergency expenses such as medical bills and car repairs. Borrowers with poor credit can apply as well because lenders don't run a credit check. This is an alternative to traditional loan providers, especially when you need money fast. In many cases, banks have strict lending criteria, and it takes 2 – 3 weeks to get approved. The borrower's credit history and debt-to-income ratio are taken into account. With fast loans, providers often approve applications within the same business say. Applicants should fill in details such as their name and address, mobile and work phone, and date of birth. They should also present their employment information such as employer, length of employment, and net monthly income. Applicants should specify their industry, i.e. construction, manufacturing, cleaning services, call center operations, etc. In addition, they should mention whether their salary is deposited in a domestic or international bank account. Loan providers are also interested in pay frequency. Borrowers should specify whether they are paid on a specific date of the month, bi- weekly, or weekly. Applicants should fill in their next and following pay day as well. Finally, borrowers should present their banking details. This includes their bank sort code and account number. They should also specify the type of debit card they hold, e.g. Visa Debit, Visa Electron, etc.
Types of Offers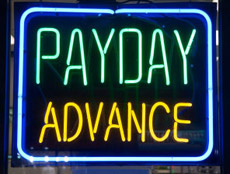 Fast loans are offered with a high interest rate because they are risky for loan providers. The reason is that lenders don't run credit checks and collateral is not required. In addition, some financial companies charge penalties if borrowers make late payments or miss payments. This increases the cost of borrowing. It is recommended to pay off the loan on time or before it is due. Early payment is a good choice because processing may be delayed. Borrowers should take into account the fact that there are non-working days. The loan agreement specifies the payment schedule and date, the interest rate, loan amount, late penalties and charges, and other details. Talk to the lender in case you are unable to make payment on time. This is better than ignoring their calls.
Besides fast approval, borrowers benefit from taking out a fast loan in other ways. Many lenders advertise no monthly charges, fast funding fees, and application fees. In addition, borrowers save on postal charges and collection fees. You will know the result of your application within 1 business day and sometimes within 60 seconds. Funds will be deposited in your account on the next day. First-time applicants are usually allowed to borrow small amounts ($100 to $500). Returning borrowers who have paid their loans on time can apply for a larger amount. Some loan providers offer loans of up to $2,500 to returning borrowers. Moreover, there is no need to visit a branch or office to fill in the application form. Most lenders allow borrowers to apply online. They can apply during non-working days, holidays, and during the weekends. Borrowers also save on credit card annual fees and late payment fees. Bounced checks are another problem that you will avoid.
Obviously, fast loans are a last resort because of the high interest rates and short terms of repayment. At the same time, they are an option for those who need money between two paychecks. Some people don't have cash to pay for prescription drugs or unexpected repairs. If they have a poor credit history, they may have a more limited access to traditional sources of financing. Finally, borrowers can rest assured that their information, including their bank and personal details, is kept confidential.
What You Should Know
Keep in mind that there are illegal businesses and lenders that prey on borrowers with financial problems. Fraudsters contact potential customers by phone or email and try to convince them that approval is guaranteed. Beware of companies that require up-front fees for paperwork, processing, and insurance. If fees, interest rates, and repayment terms are not disclosed clearly, this is a sign of a scam company. Never send money to a private party. Some people send money orders and use a wire transfer which is unsafe to do.
Related Articles
The Dangers of Dealing with Loan Sharks
Loan sharks charge outrageous rates and use unethical and illegal practices to con consumers. Some providers charge up to 100 percent in interest. PracticesLoan providers often assess upfront fees and offer loans with very short terms. They use violence, threats, and other illegal practices to...
Short Term Loans for Day-to-Day and Other Expenses
Short term loans are offered by credit unions, banks, and other financial establishments. They are available to business and individual customers and usually have a maturity of up to one year. Borrowers pay in fixed installments and save money on interest charges because of the short repayment...
Loans for Borrowers with Money Problems
Bad credit loans are offered to borrowers with financial problems, poor payment history, delinquencies, bankruptcies, arrears, and missed payments. Private lenders and other financial organizations offer financing to people with poor scores, rating, and history. Features Lenders offer two types of...
Co-borrowers, Lending Criteria, and Options Available
A co-borrower is a person whose credit rating and income level are used to qualify for financing. Both the borrower and co-borrower sign the agreement and have an obligation to make monthly payments. When two people apply for a mortgage, their names will be present on the property's title. ...
Consumer Debt - Secured and Unsecured Types
Consumer debt is money owed as a result of buying services and goods. These items don't bring profit and are consumed. Unlike mortgages, the interest payments on consumer debt are not tax-deductible. Consumer debt allows borrowers to pay their ongoing expenses (rent, phone and electricity bills),...
Follow Tessa on
Google+