Travel Health Insurance - Are You Covered

Download Audio Version
Travel insurance offers a degree of security in case of an unfortunate event, including illness and accident and associated medical and hospital expenses. There are different types of coverage for dental and medical needs, and customers can choose from annual and single travel coverage and other varieties.
Types of Travel Insurance Coverage
Some providers offer dental surgery travel insurance and coverage for preexisting conditions. The policy covers dental surgery, emergency treatment, air ambulance costs and repatriation, and emergency treatment. In addition, customers are offered coverage that includes compensation for curtailment, cancellations, and delays, legal fees and advice, and the cost of stolen or lost belongings, luggage, and valuables. The policy also includes compensation for injuries, losses due to incidents, and more. The premiums depend on the type of policy and trip type, for example, backpacker, winter sports, annual multi trip, single trip, and so on. Insurers are also interested in details such as age, number of travelers, dates, and destination (worldwide or domestic). Customers are free to participate in a number of recreational activities, including ballooning, snowboarding, and others. Clients benefit from the fact that online medical screening is available. Some policies cover more than 200 pre-existing conditions at no added cost. Additional coverage is offered for delays, travel disruptions, sporting activities, and expensive items and gadgets. Customers are free to extend their coverage to include sports activities such as bungee jumping, white-water rafting, and others. Those who opt for winter sports coverage benefit from no debit or credit card fees. The policy covers lost passes, hiring replacements, lost and damaged winter sports equipment, emergency medical treatment, and a lot more. Coverage is also offered to customers aged 65 or older. Travel insurance can be extended to children under 18.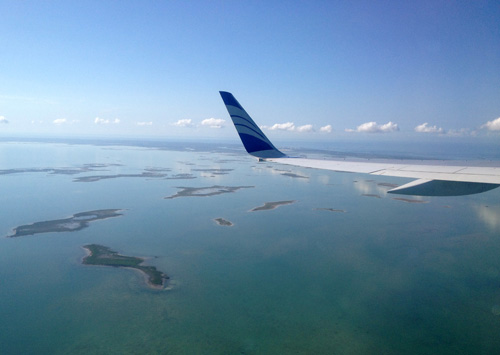 Group and Family Travel Insurance
The main benefit of group travel policies is that they are less expensive and are intended for customers who are traveling with their kids and spouse. Separate policies cost more, and some providers even provide free coverage for children under the age of 18. The policy covers alternative accommodation, additional baggage, and more. These policies also offer protection in case of unexpected illnesses and conditions while on vacation. Customers are offered travel assistance for peace of mind if problems arise. Issuers offer quotes based on information such as number of travelers, trip cost, return and departure date, destination country, and so on. Family travel insurance is offered to customers who live at the same address. In case one or more persons have different addresses, they are offered separate policies. There are options to upgrade the policy, including flight protection, renters collision, medical coverage, and others. Issuers offer policies that cover:
missed flight connections
sudden injuries
trip delays
lost baggage
stolen and lost documents
Customers benefit from additional coverage, including assistance with last minute arrangements, cash transfers, emergency medical treatment, repatriation, emergency evacuation, and a lot more. In addition to these types of covers, there are group travel policies for customers who are travelling with colleagues, friends, or other parties. Extra coverage is also available for this type of policy. Group travel medical insurance is intended for missionaries, student groups, groups of at least 5 travelers, etc. This policy offers multiple benefits, for example, reduced premiums, high maximum limits, flexible deductible options, and more. Added benefits include baggage delay benefits, travel delay, and trip cancellation. Some policies even feature generous pharmacy discounts. Group policies are offered to both non-citizens and citizens and are in the form of short-term medical coverage. Insurers offer daily and monthly rates for convenience. In addition to these policies, many insurers also offer annual multi trip coverage with attractive discounts of up to 20 percent. It is designed for trips of up to 60 days. Extended coverage is also available for trips of up to one year. Customers who opt for group travel insurance can choose from different types of coverage, including medical evacuation and medical coverage. This policy is an attractive option for seniors because the low premiums make it an economical and cost-effective choice.
Special and Sports Travel Insurance
Some insurers also offer pregnancy travel insurance, and there are policies that cover the full term. Emergency repatriation and enhanced cover are the main benefits. The policy covers emergency assistance, personal accident cover, and hospital and medical expenses. Another specialty type is the sports travel insurance that covers outdoor activities and sports such as archery, trekking, camping, and others. Extreme sports such as:
scuba diving
jet skiing
rock climbing
paragliding
kitesurfing
windsurfing
are often excluded. However, insurers cover certain sports to certain limits and extremes. For instance, activities such as hiking to a certain sea level and rafting to a certain velocity are covered. Most policies require that customers take part in such activities together with a qualified instructor. Obviously, the premiums for high-risk sports are also higher. With many types of insurance, customers can choose from two varieties – long stay and short stay coverage. Long stay coverage, for example, is designed for extended trips and holidays. With most types of coverage, insurers either offer high premiums or are unwilling to offer a policy to customers with pre-existing conditions such as cancer, heart problems, and others. Insurers ask questions about physical and mental conditions (for example, anxiety and depression).
Related Articles
Top 5 Credit Cards for Travelers
There are different credit cards that are tailored to the needs of frequent travelers, whether for business, a trip abroad, leisure, or anything else. Basics and BenefitsCardholders are offered plenty of perks and benefits such as free nights, flight discounts, free airlimes, and more. Issuers...
Medical Insurance as a Flexible Solution to Maximize Employment Benefits
Medical insurance policies cover health-related and hospital expenses due to accidents and illnesses. Benefits are offered for injuries, medical problems, and accidental death. The different plans are offered by non-government entities, private insurers, government agencies, and others. As a rule,...
Follow Tessa on
Google+