ATM Machines for Quick and Safe Bill Payment and Transactions

Download Audio Version
An ATM is an abbreviation for the automated teller machine that allows cardholders to complete transactions. They can withdraw money without having to visit a local branch. This is a convenient method, especially when customers need cash. Some retailers accept cash and credit only.
Types of Machines
The basic type allows customers to withdraw cash only. It is less expensive. There are more complex devices that offer reports, accept credit card payments and deposits, and allow withdrawals. Usually only bank customers have access to these features. In addition, there are built-in and free-standing devices. The built-in type is located next to the wall of a company or financial institution and has security features. It is literally attached. Free-standing machines are found in different locations, including drive-through lanes, on the street, and in commercial premises. Other locations include restaurants, gas stations, grocery stores, airports and train stations, and shopping centers. In general, ATMs are found in areas with high foot traffic.
Other ATM Uses
Automated teller machines are used to pay taxes, fees, and bills such as phone, electricity, gas, and others. Cardholders are allowed to update their passwords and purchase various products, including concert, train, and lottery tickets. Some machines even offer fast loans. Users have two options – to make transfers and withdraw cash. ATMs are also used to pay credit card balances, donate to charitable organizations,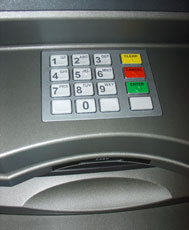 and transfer money. The main benefit for cardholders is that they have access to their account 24/7. In comparison, financial institutions have working hours. Customers also have access to mini account statements and can make balance enquiries. This is easy to do. Holders can choose between "savings" for their savings account, "checking" for their basic account, and "credit" for their credit card. Then they can press "no" or "yes" depending on whether they want to make another transaction. This option is only available for accounts that are linked to the customer's debit card. Holders are also allowed to make withdrawals from their current or savings account. Another option is to use one's credit account for this. There is a limit on the amount that can be withdrawn per transaction and within a single day. Funds can be transferred between checking, savings, and credit card accounts. It is important to pick the card once it is ejected. Otherwise the machine may keep the cash or card.
Components and Security Features
The device consists of a crypt processor, PIN pad, card reader, and central processing unit. The card reader is a unit that reads account information while the keypad allows customers to enter their PIN, amount of money and transaction required (i.e. balance inquiry, cash withdrawal, etc.). A receipt is printed by the record printer for every transaction. Other components include indicators and sensors, vault, and key buttons. There is a cash dispensing device that is found at the bottom of the machine. An electric eye is built into the cash dispenser, and its function is to count the number of bills that leave the dispenser. The sensor is another component of the cash dispenser that checks the thickness of bills. Bills that are folded or torn are discarded and go to the reject bin. In this way, financial institutions get information about the quality of bills and the number of bills that are torn or worn. A high rate signals that there is a problem with the dispenser or the bills loaded in the ATM.
Software and Security Features
ATMs also have a number of security features that protect banks and clients. These include identification numbers, security cameras, pass codes, and others. There are different types of software that enable customers to transfer money and accept deposits. In addition, there is PIN software that allows customers to enter their PIN in reverse order and thus signal the police that someone forces them to make a withdrawal.
Most machines work under Windows XP Embedded and Windows XP Professional. Some ATMs also use Linux, Windows 2000, CE, and NT. With the advance of high-tech equipment and modern technologies, programmable devices have become more commonplace.
Related Articles
Revolving Credit for Daily Expenses and Major Purchases
Revolving credit is an agreement between a company or an individual borrower and a financial institution, which offers funds on demand. Borrowers can draw on the line whenever they need funds but are under no obligation to use the money. There are different types of revolving debt such as credit...
Beneficial Features of Checking Accounts
A checking account allows holders to make deposits and withdrawals. The main benefit of this type of transactional accounts is that the funds deposited in them are liquid. This means that money can be withdrawn at any time and no penalties apply. There are different ways to withdraw funds,...
Follow Tessa on
Google+